24 April 2012 by
barb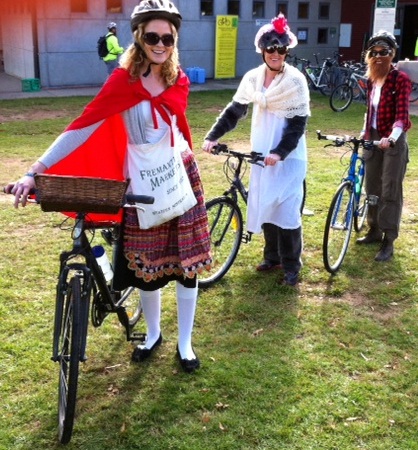 On Sunday 1 April 2012, Lauren, Jo and Clare Mahoney took on a leisurely 40km bike ride near Woodend.
To make things more interesting they decided to raise some awareness for Harry's Appeal. Harry's story is similar to that of their late cousin Jarrod and the girls wanted to share some love with Harry and also pay tribute to their memories of Jarrod.
The girls were even brave enough to invite donors to make suggestions for a costume theme for them! They were happy to "essentially trade some public humiliation for $$". You've just gotta love that!
In the end, Little Red Riding Hood, the Wolf in Granny's clothing and the Woodcutter took to the streets, had some fun, no doubt got some blisters here and there and raised just over $1,000 for Harry!
Great job girls! We all think you're fab and wish the world was sprinkled with so many more sister acts just like yours – it would truly be a better place.